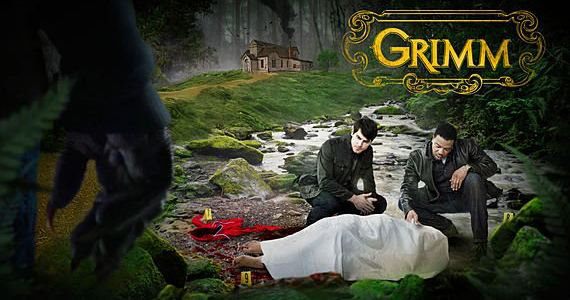 This is the twelfth or something in my series of "Opening Week Reviews" in which I review the pilot or season premiere episode of the shows I plan to watch this season. It's also the last;
Grimm
was the last one I'm waiting on. Spoilers will sneak up behind you in a dark forest and howl. You have been warned.
Police detective Nick Burkhardt (David Giuntoli) doesn't know he's special. Until he starts seeing odd things--weird, gross faces on otherwise normal people, for instance--and his aunt Marie (Kate Burton) arrives in town to tell him that he's a Grimm, which she doesn't entirely explain, but Nick begins to put the pieces together. When a college girl turns up ripped to shreds and a little girl goes missing, Nick suspects something weird is going on, not least because they were both wearing red hoodies. With the help of a Big Bad Wolf, Eddie Monroe (Silas Weir Mitchell), Nick hunts down the other Big Bad Wolf (Tim Bagley) who has kidnapped the girl and is fattening her up to eat her. At the same time, Aunt Marie is in the hospital in a coma, and something with a nasty face is trying to kill her. That something with a nasty face turns out to work for Nick's captain, Renard (Sasha Roiz), and they seem to have a plan to kill Grimms.
I'm not quite sure how I feel about this series yet. It was okay, but there was a lot going on in the pilot. The acting was pretty decent, but Nick seemed to take everything in stride a little quick. Not that I expected crying in the corner or anything. Also, I found the whole "you have to break up with your girlfriend because the life you're about to enter is way too dangerous for her" both insulting (why not
ask
her if she wants to be part of it or not?) and
way
too fast.
The show is produced by David Greenwalt, though, who's got some serious credits under his belt (
Buffy. Angel. Eureka. The X-Files.
), so I'm willing to give it some time to find its feet. Pilots are rarely a good indicator of the rest of the series, anyway.